simple flat cake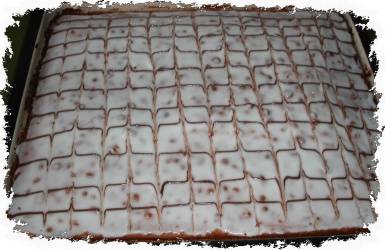 350 g margarine or butter
300 g sugar
1 pack (3 teaspoons) vanilla sugar
6 eggs
2-3 lemons (organic, with edible peel)
350 g wheat pastry flour
3 teaspoons baking powder


Stir all ingredients from top to bottom of the list together. Add the eggs one at a time, so that the mix of butter and sugar can slowly dissolve. If you have lemons with edible peel, rasp that into small flakes and add it to the dough. Finally, add the baking powder to the flour, then add the combination to the dough to ensure an even distribution of the baking powder.

Put the batter on a greased flat baking tray or a large flat baking pan and keep in the center of the 175 °C oven for roughly 20 minutes.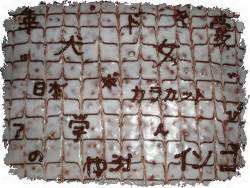 200 g powdered sugar
lemon juice


After the cake has cooled down, spread the icing on top. You may optionally add chocolate or other sugary decorations.

Slice into pieces of 5 x 5 cm, and serve on a plate.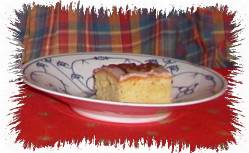 Ingo Karkat, Jan-2005