Job description HPE / Micro Focus Operations Bridge
business
From its early beginnings as network management via SNMP traps, Operations Manager expanded into application management, pivoted from a host- to a service-centric CMDB-based model, implemented on a new technology stack, then gained the ability to integrate with numerous third-party sources of event and metric data, in addition to its own collection, which works both with agents and through remote probes. As the Operations Bridge, it offers a consolidated view of heterogeneous, hybrid environments, with a unified view on events and health information that pinpoints root causes and affected services. Far from being a simple event browser and trigger of remedial actions, it can generate trouble tickets, send email alerts, execute automated runbooks, and show detailed reports and dashboards. A new data ingestion does away with multiple data collection and storage, and analytics with machine learning algorithms promises data analysis that doesn't require tedious configuration.
The Operations Bridge Suite ships as a cloud application, which means that you provision one or three master nodes, and any number of worker nodes (that can later be scaled up or down), either as physical (Linux) systems, or virtual machines in a private or also public cloud (like Amazon AWS instances). An installer that is common to all Suites bootstraps a Kubernetes environment, and lets you select the desired Suite capabilities, each of which consists of a set of Docker containers that can then be sized according to your needs. In contrast to a classic deployment, this offers more flexibility, built-in high availability, and integrations among capabilities that work out of the box.
job title
HPE Operations Bridge Development Engineer
Feb 2016 - Sep 2021
Put OMi into a Docker container for a hyperconverged appliance, then productized this as part of the first private cloud-based monitoring solution for Hybrid IT.
achieve­ments
my desk Jan-2019 screens for lookups through my personal portal | IDE / editor / terminals | remote dev/test environments | notebook for email and communications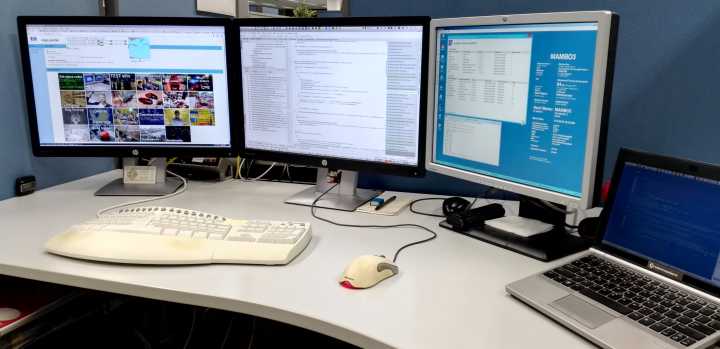 screenshot silent Suite configuration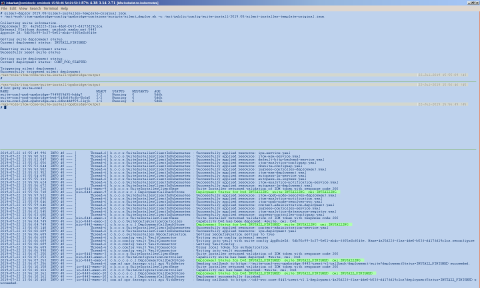 my desk Jul-2021 finally 3 equally-sized 21" monitors, and a new notebook driving two of them; the third is driven via Barrier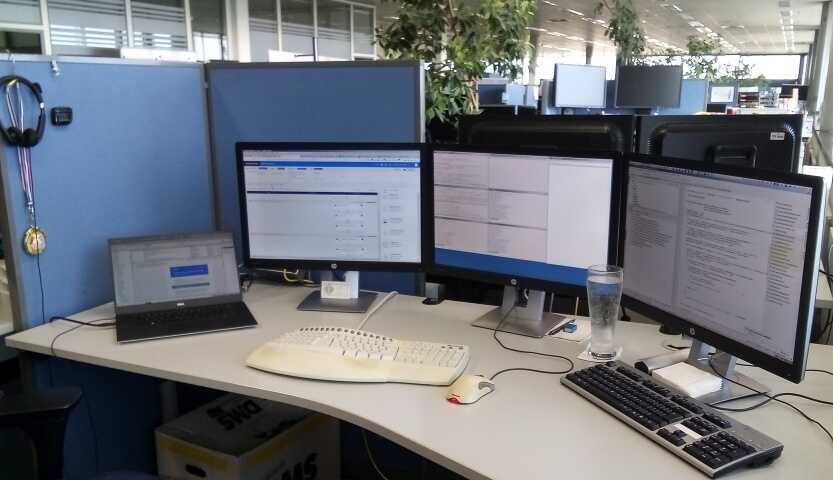 The company's share price (it roughly correlated with my happiness)
responsi­bilities
trimming down a large and complex monolithic legacy multi-process Java application into a lean application container without forking the code and affecting the classic version (through feature switches, preprocessing, and post-install transformations)
Docker container image builds, Artifactory repository management, automated development and test setups via Docker compose
maintenance and refactoring of automated build and testing scripts (Korn shell, home-grown Java testing framework)
coordination with distributed component teams, definition and implementation of reusable components
adopting a prototypical procedural Suite configuration application, refactoring that to be robust, object-oriented, and testable along with ongoing feature development
tactical fixes and enhancements to a Bootstrap / jQuery / AngularJS frontend
major rework of the Java Spring boot backend, adapting to big architectural changes of the underlying framework and enabling new feature development
implementation of capability orchestration, with coordination across a handful of offshore teams, as a step towards a new unified mechanism in the common framework
third-level product support work on a rotational basis for arbitrary components of the Suite and OMi product, working with support engineers, escalation managers, and directly with the customer
conversion of XML-based legacy web services to JSON-based REST web services as part of the obsolescence of Flex-based UIs
break-up of monolithic legacy repositories combined with the creation of Jenkins builds and a unifying build library for the extracted components
setup of cloud environments (Amazon AWS and Microsoft Azure) for deployment and testing of our containerized suite
skills
feature definition, iteration planning, task breakdown and tracking according to the Scaled Agile Framework for Lean Enterprises (SAFe)
implementation, sprint demo, preparation of documentation, training for field support engineers
refactoring of procedural legacy code without test coverage on the side, concurrently with feature work, by introducing seams, splitting off classes, and reducing duplication
diligent, high-quality work with a long-term view in a rapidly changing organization distracted by a company split and then later a spin-merge with declining revenues and attrition
used tools
Ubuntu 14.04 / 16.04 / 20.04 LTS operating systems (development); CoreOS, hLinux, CentOS container hosts, RHEL and OpenSUSE base images
VMware ESX, Docker containers, Docker compose environments, Kubernetes with etcd distributed key-value store and Vault store for secrets; Helm charts
IntelliJ IDEA development environment (Java, Groovy) with Maven 2 build
Spring Boot web applications
GitHub Enterprise source code repository
Jenkins CI build
HP Agile Manager for agile planning, HP ALM 11 / Octane for defect handling
Terraform cloud provisioning, Ansible system setup, AWS and Azure consoles and command-line interfaces
Ingo Karkat; last update 09-Jan-2022