Bangalore
The Indian people are very friendly and helpful. There were hardly any tourists in Bangalore; the few Europeans and Americans we encountered probably were there for business reasons, too. Unfortunately, there are very few sightseeing attractions in Bangalore (apart from the bustling, chaotic city itself and two magnificent parks, Cubbon Park and Lal Bagh Botanical Garden), so our weekend trips all started with being driven for a couple of hours. Outside Bangalore, Indians are very curious. We've been constantly asked where we're from; some young Indians had pictures taken with us.
Sadly, the tourist spots also feature many beggars, starting with young children, some of which persistently follow you even though you've made it clear that you want none of their business. Granted, being an easily recognizable, wealthy Westerner makes one a juicy target, and after five minutes of questioning and soliciting you're really tempted to hand out some petty cash just to be left alone. But I think the consequence of that would only be that soon you'll be ringed by several more who ask for the same treat.
In May, the weather is just perfect, a beautiful glimpse into the upcoming German summer. Bangalore lies in the south of India, in a mountainous region. There's lush, green vegetation, palms, banana trees and rice paddies. We left shortly before the rain season, when - understandably - transportation inside this big, messy city becomes more difficult.
During our stay, temperatures were in the range of 25-35°C; very few clouds during the day. In the evening, there were more clouds, and it often started raining late in the evening or during the night.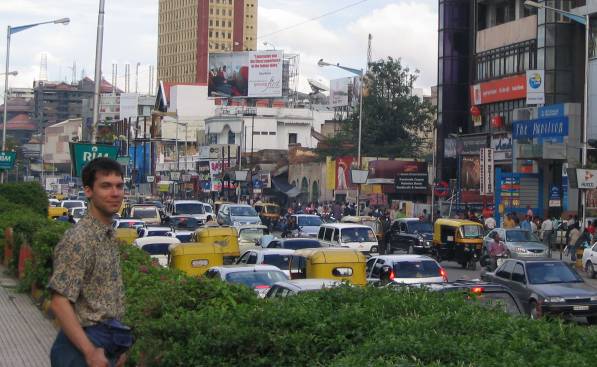 This is Bangalore's main road, M G road. There are many shops and street vendors. We basically walked there every evening, after work, in order to get to Brigade road (which has many stores for music, clothes (also international brands like Lee and Lacoste)) and Church street, where most of the restaurants are located. There are a couple of book vendors, who simply place their paperbacks (mostly the same international bestsellers in English) on a blanket on the sidewalk. Street vendors peddle useless, tourist stuff like wooded chess boards, pipes or maps of India. A determined No, thank you! is often sufficient to get rid of them.
You have to try the various dishes that are on offer - well, except from small street vendors, which would probably be too much for our delicate Western stomachs. Bangalore offers good, cheap food (starting at 200 rupees ≈ €4, up to 600 rupees ≈ €12, including drinks) at various nice restaurants. The non-vegetarian food is typically based on chicken or mutton. My tip: spicy half-a chicken with Kerala parota bread. For lunch, we either had pizza at a nearby café named Java City, or went to the canteen, which served a simple yet tasty vegetarian buffet for 35 rupees ≈ €0.70.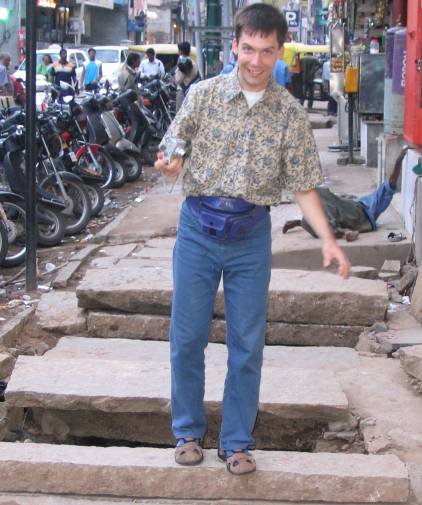 Traffic in Bangalore is - different. There are few (fully functioning) sidewalks, and even fewer traffic lights for pedestrian - at least compared with a typical German city like Stuttgart. You walk at the side of the road, constantly watching for cars, motorbikes and Rickshaws. Traffic is loud and noisy; many traffic rules seem to involve use of the horn. You can walk short distances and hitch a ride on the ubiquitous and cheap motor Rickshaw. You only need a car and driver for longer journeys or airport transfer. Don't think about renting a car and driving yourself! The traffic rules are incomprehensible to us, but they work exceptionally well for the Indians. I'm really amazed at how smooth even dense traffic flows. Germans drive way more aggressively, insisting on their rules and rights. In Bangalore, everybody takes care of the other vehicles; driving is a community activity, not a fight for pole position.
To sum it up: India is well worth a visit - but if you're going to have a pure vacation, look to other cities to do sightseeing and soak up the culture. If a business trip takes you to Bangalore, use day-trips during the weekend to learn more about India, and pamper yourself with good food and shopping after work.
Ingo Karkat, Jun-2006